Provide and Protect Planning Kit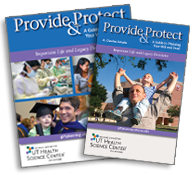 Start planning for tomorrow today. We would like to give you the Provide & Protect Planning Kit. This helpful information may enable you to avoid an accidental disinheritance and provide for yourself, your family and your favorite causes.

Your free kit will come with our Provide & Protect book that will walk you through important topics such as:

• Should I have a will or a trust?
• Who is the ideal person to be my executor?
• How can I preserve assets for my loved ones?

We would also like you to have the Provide & Protect Wills Guide, an easy to use workbook that you will help with your estate planning as you record and organize your family information and make your estate distribution plans.

Request your Planning Kit today. Please include your mailing address and phone number in the comment box below.
Enter Your Information
Beneficiary Designations Language
All beneficiary designations should be made to the Board of Regents of The University of Texas System, EIN 30-0710145, for the use and benefit of The University of Texas Health Science Center at San Antonio. This gift shall be used for the further benefit of [College, School, Department] and shall be used to _________________."
View and download:
Sample Bequest language
Sample Beneficiary language
Estate Intention Letter
Charitable Gift Annuity
Single Rates from the American Council of Gift Annuities
| | |
| --- | --- |
| Age | Rate |
| 60 | 4.40% |
| 65 | 4.70% |
| 68 | 4.90% |
| 70 | 5.10% |
| 72 | 5.40% |
| 74 | 5.70% |
| 76 | 6% |
| 78 | 6.40% |
| 80 | 6.80% |
| 82 | 7.20% |
| 84 | 7.60% |
| 86 | 8% |
| 88 | 8.40% |
| 90 | 9% |
CGA's are also available for two lives and can be deferred