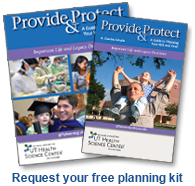 Thank you for your interest in the University of Texas Health Science Center San Antonio. Our hope is to serve you and your family with valuable and helpful information regarding estate and legacy planning. As we kick off our bequest campaign, we hope that you will consider joining other friends of the university who are benefitting from life-income gifts, gift annuities, and other plans. These legacy gifts will help to secure the future for the university as we make lives better through our core missions of education, discovery, care and community service. Thank you for taking the time to explore the benefits of gift planning.
Beneficiary Designations Language
All beneficiary designations should be made to the Board of Regents of The University of Texas System, EIN 30-0710145, for the use and benefit of The University of Texas Health Science Center at San Antonio. This gift shall be used for the further benefit of [College, School, Department] and shall be used to _________________."
View and download:
Sample Bequest language
Sample Beneficiary language
Estate Intention Letter
Charitable Gift Annuity
Single Rates from the American Council of Gift Annuities
| | |
| --- | --- |
| Age | Rate |
| 60 | 4.40% |
| 65 | 4.70% |
| 68 | 4.90% |
| 70 | 5.10% |
| 72 | 5.40% |
| 74 | 5.70% |
| 76 | 6% |
| 78 | 6.40% |
| 80 | 6.80% |
| 82 | 7.20% |
| 84 | 7.60% |
| 86 | 8% |
| 88 | 8.40% |
| 90 | 9% |
CGA's are also available for two lives and can be deferred